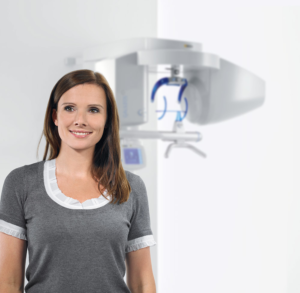 Prestige is proud to announce we recently incorporated a new GALILEOS® 3D Cone Beam imaging system to help us provide our patients even better diagnostic and treatment options, and to prepare you for a wide range of dental procedures.
We invested in this technology to see more of your teeth and surrounding structure as it relates to your dental anatomy. 3D scans are more comfortable, less invasive, and provide a more relaxed and enjoyable treatment experience than traditional x-rays.
The accuracy, precision, and clarity of these images provide us the information we need for:
Accurate placement of dental implants
Extraction planning for impacted teeth
Diagnosing temporomandibular joint disorder (TMJ)
Evaluation of the jaw, sinuses, nerve canals, and nasal cavity
Determining bone structure and tooth orientation
You simply stand (or sometimes sit). A typical 3D panoramic scan of your entire head, neck, and jaw takes approximately 14 seconds to complete, and is completely painless. The procedure provides:
A low-dose of radiation (less than a full mouth series of intraoral film)
A quick comprehensive scan of the complete oral-maxillofacial area Immediate virtual diagnosis and treatment planning in one visit
More certainty during surgery
Easy sharing of images and diagnostic information with referring doctors
With an enhanced visualization of your teeth, bones, and surrounding hard and soft tissue, your doctor will understand more about your diagnosis and treatment plan.
Download our informative brochure on the GALILEOS® 3D X-Ray by clicking here.