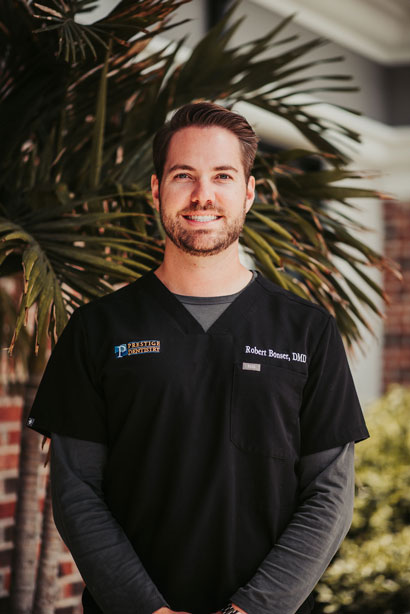 Dr. Robert Bonser is a distinguished graduate with a bachelor's degree in biology from Florida State University. His academic journey continued with a master's degree in Biomedical Science and a Doctorate of Medicine in Dentistry from Midwestern University in Glendale, Arizona. Throughout his educational tenure, Dr. Bonser showcased exceptional leadership as the class president and earned accolades such as the Service Award for his dedication to initiatives like Super Sealant Saturday, Oral Cancer Awareness Walk, and Give Kids a Smile.
At Midwestern University, Dr. Bonser honed his skills with a keen focus on high-quality, modern, and aesthetic dental techniques. After graduation, he made a strategic move to the Tampa/St. Pete market to be closer to family, where he has been making a meaningful impact ever since.
Dr. Bonser is committed to staying at the forefront of his field, exemplified by his completion of the Dawson Academy's mini residency, a comprehensive program encompassing over 100 hours of continuing education in advanced techniques and esthetics. His active involvement in professional organizations, including the Academy of General Dentistry, Florida Dental Association, West Coast District Dental Association, and the American Dental Association, underscores his dedication to ongoing education. Through these affiliations, he has received advanced training from world-renowned authorities in restorative, cosmetic, rehabilitative, implant, and orthodontic care.
Beyond his professional pursuits, Dr. Bonser embraces an active lifestyle, sharing it with his wife Whitney and their golden retriever Breck. They recently welcomed their firstborn son, adding a new chapter of joy and fulfillment to their lives. Driven by a commitment to excellence, Dr. Bonser continues to elevate dental care standards while savoring the precious moments of family life.