Find Your Cosmetic Dentist In Palm Harbor and Trinity
For everyone who has ever wondered how much better their smile would look and how much more confident they'd feel if their teeth were brighter, straighter, all the same color, or shaped more naturally, Prestige Dentistry has GOOD NEWS.
With the range of cosmetic dental services we have available, it's not only possible to have a more beautiful, perfect smile, it's now faster and more affordable than ever!
The cosmetic dentists at Prestige Dentistry in Palm Harbor and Trinity, Florida offer a wide variety of cosmetic dentistry options for people seeking to enhance their smile, from teeth whitening to porcelain veneers, dental crowns to clear braces!
Cosmetic dentists Dr. Pielak and Dr. Horwitz have advanced experience in the latest techniques and technology in cosmetic dentistry.
Why consider cosmetic dentistry?
While many people simply want a sparkling, younger-looking smile, the greatest number of people who have cosmetic dentistry have been self-conscious about some part of their smile their entire adult lives.
For some, seldom smiling or hiding their smile behind their hands has become a way of life. Not only can this be isolating, it can make it difficult for others to see the warmth of an individual's personality.
At Prestige Dentistry, we don't just change smiles. We change lives.
With the technology available here, the wide range of cosmetic dental services offered, and our commitment to staying on the leading-edge of advancements, cosmetic dentistry at Prestige Dentistry is far more predictable and durable than it was even a decade ago.
Restorative benefits of cosmetic dentistry
Our cosmetic dentists in Palm Harbor and Trinity also have a special interest in the restorative benefits of cosmetic dentistry, such as replacing worn or broken fillings made primarily of metal with porcelain or composite materials that more closely match the color of a person's natural teeth. They can also replace missing teeth withh bridges and dental implants to improve function.
Prestige Dentistry uses the most conservative, tooth-sparing treatments possible. Our goal is to maintain as much natural tooth structure as possible to achieve the best-possible outcomes.
Cosmetic dental services include:
Teeth Whitening
Teeth whitening is one of the most common cosmetic dentistry procedures. Many people find teeth whitening is all they need to brighten teeth stained by various foods and beverages. These causes can include coffee, tea, colas, and red wine, by tobacco use, use of certain medications, injury, chemical damage, or by the aging process. At Prestige Dentistry in the East Lake, Trinity and Palm Harbor areas, we use different whitening methods including the Zoom! Whitening system.
Inlays and Onlays
Similar to dental crowns, inlays and onlays need less preparation of the tooth's surface than crowns. Usually made of porcelain or tooth-colored composite materials, inlays and onlays are a long-lasting way to provide a "filling" to teeth that are decayed or damaged, or to restore teeth that structurally cannot support a filling.
Bonding
Bonding uses tooth-colored materials that adhere (bond) to a person's tooth to repair teeth that are broken, stained badly, chipped, or broken.
Porcelain Crowns
Porcelain crowns can protect damaged teeth, support bridges, and cap dental implants. Due to the translucent nature of porcelain, a cosmetic dentist can place porcelain crowns that look just like your natural teeth. The cosmetic dentists at Prestige Dentistry use computer-assisted design to ensure a precise fit, and the quality materials used result in outstanding strength and durability. Many people choose porcelain crowns to replace their metal crowns for a more natural look to their smiles.
Cosmetic Gum Surgery
This type of cosmetic dentistry procedure can correct "gummy" or "long-tooth" smiles that often make people feel self-conscious.
Orthodontic Treatment
Orthodontics are not just for kids anymore. Many of today's braces have eliminated the wires many people associate from their childhoods. Some orthodontic treatments can be completed relatively quickly in months, not years.
Dental Implants
Dental implants are a great cosmetic dentistry option for those that have one or more missing teeth. Dental implants can be capped with dental crowns or be used to secure dentures or bridges.
When capped by a skillful cosmetic dentist like those in the East Lake and Palm Harbor areas at Prestige Dentistry, dental implants can make your restoration look, feel, and function like natural teeth. They also have additional benefits, including preventing bone loss and shifting or tilting teeth.
---
Get a Perfect Smile – Schedule a Cosmetic Dental Consultation Today!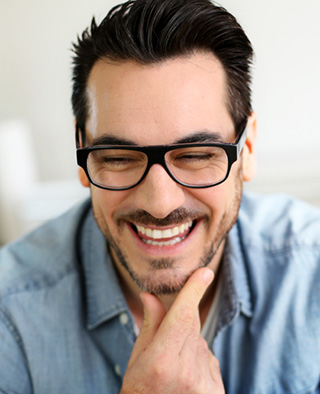 To learn more about cosmetic dentistry and the cosmetic dental services provided by Prestige Dentistry, contact our Palm Harbor or Trinity office today by calling the number above or simply by filling out the form on this page.
You can set up a time to sit down with a cosmetic dentist to discuss your specific situation. You will be amazed at how cosmetic dentistry can change both your smile and your life!