At Prestige Dentistry, our dentists serve patients all throughout the Tampa Bay Area, including Pasco, Pinellas, and Hillsborough Counties. We also have patients visit us from the cities of Palm Harbor, Trinity, Clearwater, Dunedin, East Lake, Lutz, Odessa, Oldsmar, Ozona, Safety Harbor, and East Lake.
Our patients trust us because our dentists, Dr. David Pielak and Dr. Jason Horwitz, deliver quality dental care and listen to patients' concerns. They will work closely with you, giving you respect, relief, and the results you desire for your dental goals.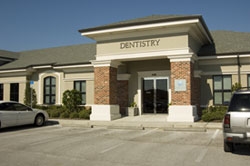 Prestige Dentistry is a progressive dental practice that remains on the leading edge of dentistry. At either of our offices, we use the latest technology, such as the GALILEOS® 3D imaging system and CEREC. Our dentists also strive to remain knowledgeable of contemporary dental techniques and studies so that they can provide you with excellent dental care.
We care about your dental health and overall health. By studying your teeth and gums, our dentists can help you prevent certain illnesses like heart disease or stroke. According to the U.S. Centers for Disease Control and Prevention, gum disease has often been associated with higher risks of cardiovascular disease and stroke.
Prestige Dentistry Patient Testimonial – See Victor's Story
New Port Richey Dentistry Services
Our dentists are committed to helping you be at your best health. We offer several dental services and treatments, including comprehensive dental exams, periodontal disease exams, teeth cleanings, fluoride treatments, root canal therapy, and teeth restoration using implants, bridges, dentures, or porcelain veneers (similar to Lumineers®).
Under the care of Dr. David Pielak or Dr. Jason Horwitz, your smile can be at its healthiest!
For more information about our various dental services, please check out the following pages:
Visit Dentists Near New Port Richey at Prestige Dentistry!

At Prestige Dentistry, we strive to give our patients strong, functional, beautiful smiles. We do this by using the most up-to-date technology and techniques. Our team of dentists and staff is also devoted to providing superb patient care.
We listen to your questions and concerns and collaborate with you to meet your dental expectations and goals. We want you to be as comfortable as possible because we care about you.
Schedule an appointment today at Prestige Dentistry to receive the dental care you deserve. We have offices in both Palm Harbor and Trinity, Florida. Contact us today to schedule an appointment.
Simply click this link to see our hours and phone number, or fill out the contact form on this page. You can also text us to schedule an appointment. We look forward to working with you!