Dr. Jason Horwitz and Dr. David Pielak are your dentists for Pinellas County, and they will help you achieve the beautiful smile you have always dreamed of. Our three dedicated dentists believe that anyone can have a beautiful smile.
With whatever procedure or dental work you may need, they will ensure that you leave their office with a shining new smile you love!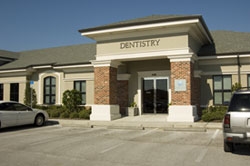 At Prestige Dentistry, we want all of our patients to receive the professional and high-quality dental care they deserve. Our dentists work closely with our patients to help them maintain good oral health and hygiene.
Dr. Jason Horwitz and Dr. David Pielak are also committed to dental safety and will instruct patients on the most effective care for their teeth and gums.
Prestige Dentistry Patient Testimonial – See Victor's Story
Pinellas County Dentistry Services
Your teeth and gums will be taken care of at Prestige Dentistry. You can trust our dentists to help you prevent or even treat gum disease. We provide an array of services that will ensure optimal dental care, including teeth cleaning, fluoride treatment or sealant, bonding, inlays, onlays, porcelain crowns (in just one appointment!), porcelain veneers (like Lumineers®), teeth whitening, implants, bridges, dentures, and more!
With leading-edge dental technology and techniques, such as CEREC and laser dentistry, we can help you attain a functional, healthy, and natural-looking smile. You will also learn how to maintain your new smile so that you can keep it brilliantly shining for years to come.
For more information about our various dental services, please check out the following pages:
Visit the Pinellas County Dentists at Prestige Dentistry!


When you visit one of our offices at Prestige Dental, we want your experience to be as comfortable as possible. Our friendly staff and team strive to make our offices warm and inviting. Our dentists are also dedicated to working closely with you and establishing a mutual respect.
We care about you and are excited to get to know you. Schedule an appointment with us today! Simply click this link to see our hours and phone number, or fill out the contact form on this page. You can also text us to schedule an appointment! Let us help you achieve your dream smile!