Your Dentist In Pinellas County
Dentist Pinellas County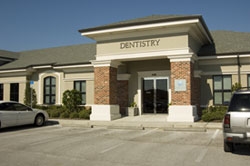 Dr. Jason Horwitz, Dr. Douglas Beil and Dr. David Pielak believe that everyone deserves a beautiful smile. Using leading-edge dental technology and techniques, and artistic ability, we help you achieve and maintain a functional, healthy, natural-looking smile.
We provide dentistry that keeps your teeth healthy and prevents or treats existing gum disease.
Whether you need teeth cleaning, fluoride treatment or sealant, bonding, inlays, onlays, porcelain crowns (in just one appointment), porcelain veneers (like Lumineers®), teeth whitening, or implants, a bridge or dentures, our goal is your good oral health and safety, and making your experience with us as comfortable as possible.
"From the smallest to the largest cases, they'll make sure it comes out the way you wanted it to. They really cared about the way I felt about the whole thing. Around my family I make them get pictures of me. I say 'get my chompers in the picture'."
Maria, Patient