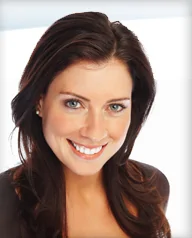 Six Month Smiles is a tremendous new orthodontic solution that utilizes clear bracket braces to
straighten your teeth in six months
. They have earned the nickname "braces for adults" because the Six Month Smiles treatment allows those who would have difficulty wearing traditional metal braces because of work, time or simply embarrassment to get the straight smile they want without the hassle of metal braces.
Six Month Smiles was specifically designed for adults and teenagers over 16 who have crooked, crowded, or spaced teeth without any major bite issues. It is a simple, convenient solution over metal braces.
Our Trinity and Palm Harbor patients love the results they achieve
with the Six Months Smiles treatment and we think you will too! We've included below some of the most popular benefits of Six Month Smiles braces for adults.
Schedule a Six Month Smiles Consultation Today!
Fast, comfortable, nearly invisible, and convenient, the Six Month Smiles alignment program is a more modern treatment regime to an age-old problem. If you're looking for a quick fix to crooked teeth, Six Months Smiles might be the solution you've been looking for.
Call us today to schedule a visit to either of our offices in the Palm Harbor or Trinity area, near East Lake!