At Prestige Dentistry, we understand that every smile is as unique as the person who wears it. That's why we strive to deliver custom dental treatments and options that are tailored to our patients' needs.
Our experienced dentists, Dr. Jason Horwitz and Dr. David Pielak, are dedicated to helping patients achieve a healthy, natural-looking smile in the way that is most effective for them. Using advanced technology and techniques, like GALILEOS®, our dentists are able to customize your dental care to your mouth's structure and integrity.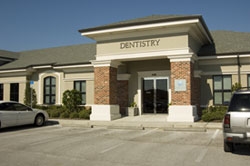 Preserving your teeth is an essential part of dental care. After treatments, our dentists will instruct you on how to maintain your teeth's brilliance and health.
Pasco County Dentistry Services
When a tooth has already been lost, the situation calls for quick and decisive action to continue to preserve good dental health and natural function.
You can have a full smile again with dental implants. Dental implants look and feel just like your own teeth. They are colored to match your surrounding teeth, so they blend into your smile. At Prestige Dentistry, we offer several other treatments for restoring your smile, including crowns, porcelain veneers (similar to Lumineers®), bridges, and dentures.
Our dentists can safely remove old fillings or crowns and replace them with beautiful, durable, and biocompatible alternatives, such as porcelain crowns and bridges. They blend seamlessly into your smile with no dark lines around the gums.
The dentists of Prestige Dentistry practice a full scope of both cosmetic and general dentistry. We perform comprehensive oral exams, tooth cleanings, fillings, bonding, root canals, and more! We also provide treatment for decay and gum disease.
For more information about our various dental services, please check out the following pages:
Prestige Dentistry Patient Testimonial – See Victor's Story
Visit Dentists Near Pasco County at Prestige Dentistry!

Prestige Dentistry is an environmentally-friendly practice. We use products and techniques that are mercury-free and metal-free. Several patients come to us with already existing silver fillings. These fillings, known as "silver dental amalgams," are actually comprised of a mixture of silver and mercury. Our dentists are trained in removing silver fillings and replacing them with safer, more natural-looking alternatives. Read more about our mercury-free practice.
Contact one of our Prestige Dentistry dentists in Trinity FL today to schedule an appointment. Simply click this link to see our hours and phone number, or fill out the contact form on this page. You can also text us to schedule an appointment. We look forward to working with you!