Your Dentist in Palm Harbor, Florida
Dentist Palm Harbor, FL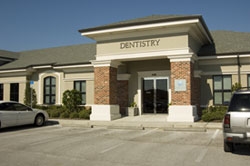 Palm Harbor dentists Dr. Douglas Beil, Dr. David Pielak and Dr. Jason Horwitz or Prestige Dentistry proudly provide a full range of general and cosmetic dentistry to those in Palm Harbor, Florida.
Our caring shows in the relationships we build with our patients. How we welcome you into our family. How we excel at caring as well as the care we provide.
Our dentists in Palm Harbor offer a range of dental treatment options which vary from simple preventative care to the most complex full-mouth restorations. Together with our patients, we select the treatment options that best suit your needs and budget.
Whether you need a teeth cleaning, natural-looking fillings or prepless veneers similar to Lumineers®, treatment for gum disease, one-visit dental crowns using CEREC, or dentures and bridges, your teeth never need to show your age.
Contact a Prestige Dentistry dentist in Palm Harbor, FL today to schedule an appointment. Simply give us a call at the number above or fill out the form on this page.
"Prestige Dentistry has a beautiful building, state-of-the-art dental technology, but it's about the relationship." Becky, patient