Dr. David Pielak, and Dr. Jason Horwitz are your dentists for Palm Harbor, Florida! They provide a full array of general and cosmetic dentistry that can help you transform your smile. With their care and extensive experience, you can achieve the smile you have always wanted. They will help you feel confident with a new smile!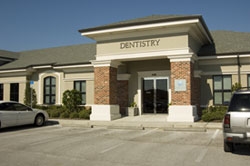 Your teeth never need to show your age! Years of dental wear and tear can be corrected in just a few appointments. At Prestige Dental, we offer a variety of services, including teeth cleaning, teeth whitening, natural-looking fillings, prepless veneers (similar to Lumineers®), dentures, bridges, and more. If you need a dental crown, our CEREC machine will create one for you in just a single appointment! Our dentists also take care of gums by striving to take preventative measures toward gum disease and providing treatment for existing gum disease.
Prestige Dentistry Patient Testimonial – See Victor's Story
Palm Harbor Dentistry Services
The services and dental treatment options we offer in Palm Harbor range from simple preventative care to the most complex full-mouth restorations. No matter what dental procedure you may need, our dentists are dedicated to making sure you feel comfortable. They will work closely with you to select treatment options that best suit your needs and budget.
For more information about our various dental services, please check out the following pages:
Visit the Palm Harbor Dentists at Prestige Dentistry!


At Prestige Dentistry, we strive to build relationships with our patients. We consider our patients part of our family. Our loving staff and team will make sure you feel calm, comfortable, and invited. We are dedicated to providing you with the elite care you deserve and are excited to welcome you into our dental family.
To schedule an appointment, contact one of our Prestige Dentistry dentists in Palm Harbor, FL. Simply click this link to see our hours and phone number, or fill out the contact form on this page. You can also text us to schedule an appointment! We are excited to work with you and help you achieve your dream smile!