Clear Braces For Adults In Trinity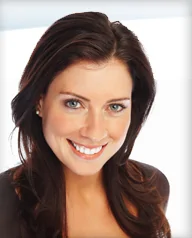 Six Month Smiles is a tremendous new orthodontic solution that utilizes clear bracket braces to straighten your teeth in six months. They have earned the nickname "braces for adults" because the Six Month Smiles treatment allows those who would have difficulty wearing traditional metal braces because of work, time or simply embarrassment to get the straight smile they want without the hassle of metal braces.
Our Trinity and Palm Harbor patients love the results they achieve with the Six Months Smiles treatment and we think you will too! We've included below some of the most popular benefits of Six Month Smiles braces for adults.
SIX MONTH SMILES BENEFITS
Six Month Smiles clear bracket braces hold a number of advantages over other teeth alignment methods.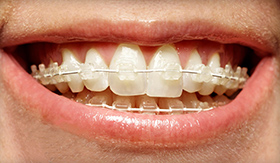 SPEEDY | Six Month Smiles can achieve great results in substantially less time than other types of braces. Six months is the average treatment time.
STEALTHY | Using clear bracket braces instead of harsh metal brackets and wires eliminates the "metal mouth" look. Don't worry, the clear bracket braces are strong and effective.
CONVENIENT | Fast and comfortable follow-up visits during and after the treatment period make for a more convenient orthodontic solution.
COMFORTABLE | Six Month Smiles clear bracket braces reduce force and stress on your teeth, resulting in a higher degree of comfort.
BRACES FOR ADULTS | Clear bracket braces for adults enables adults to create the straight smile they've wished they had for years. Because of the speed and stealthiness Six Month Smiles braces for adults offers, this wish can become a reality.

For most patients, Six Month Smiles braces for adults are a viable solution for a straighter, more attractive smile. Schedule a consultation today to find out if Six Month Smiles is right for you. We'd be happy to answer all your questions and share our success stories with you.

For more information on all of our orthodontic and general dentistry services offered at Prestige Dentistry, please take a look at our main Trinity and Palm Harbor dentistry website.